Bo Nanafana presents The Hot Cross Bunny Boiler Starring The Cuban Brothers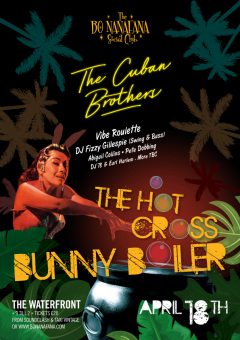 Starring The Cuban Brothers, VIBE Roulette, Fizzy Gillespie, The Sweetbeats Abigail Abi Collins, Pete Dobbing, DJ78 and Earl Harlem and more acts to be announced.
Divine and Dirty funk, soul 'n Swing n Bass & Comedy to Pass you Over from Lent to the early hours of Good Friday!
It's Easter but with a Totally Tropical Taste.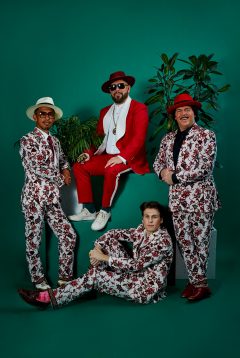 The Cuban Brothers' peerless funk soul review blends sexy, SOULFUL MUSIC, with jaw-dropping B-BOY ACTION and RIOTOUS COMEDY and maybe just a little nakedness…
The VIBE ROULETTE wheel is waiting, displaying a thrilling compendium of musical interactivities behind every spin… Don't like what the DJ is playing? Spin the Wheel!
Want a change of pace? Spin the Wheel!!
Live life on the edge…
SPIN THE WHEEL *** WIN THE VIBE
Don't be a vibe-hater, be a vibe-rater!
Fizzy Gillespie is a DJ & Producer who is best known for taking the Vintage sounds of 1930's Swing to 1960's Soul, as well as everything in between, and fusing them with modern Bass music; crossing over genres such as Drum'n'Bass, Garage, Jungle, House, Hip-Hop and other assorted beats!
Bo Nanafana and Norfolk favourites, The SweetBeats blend sparkling vocals, luscious horns and deep dance beats, with a heady mix of original tunes, rare grooves and vintage dancehall classics.  They'll be upstairs in the studio for the late slot
Abigail Collins .After expelling herself from The Royal Ballet School, pint-sized comedy powerhouse Abigail Collins has become well known on the cabaret circuit for her multi-talented mix of comedy and circus
With walkabout and installations, and a traditional Bo Nanafana swinging away upstairs all compered by the loud and shouty Mr Pete Dobbing, you'll be in your own little tropical Paradise.
Dress Fancy if you fancy: Think Moai🗿or Mary    🙏 Monkeys 🐒 or Bunnies 🐰   Mardi Gras or Maundy Thursday   Birds of Paradise  or Spring Chickens
The Waterfront  Thursday 18 April 2019   Tickets just £20.00 from https://www.ueaticketbookings.co.uk/ents/event/7189/ NOW or in the flesh from Soundclash Records, and Taxi Vintage (Top of the market) in a coupla days