The Bo Nanafana Takeover Presents 'The Apples'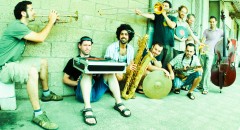 The Festival Programme is out! We have two events at the Festival this year and there are still tickets left for The Bo Nanafana Take Over at Norwich Arts Centre's brilliant Live Art Club starring The Apples a nine-piece band hailing from Tel Aviv, Jerusalem and Haifa.
There's drums, bass and horns all held together by turntablists DJ Todres and Schoolmaster with Mixmonster to mix it all up some more. They're spontaneous, funky and noisy. Known for their breakout reinterpretation of Killing in The Name but there's so much more to them.
With DJs, surprises and Hunt and Darton Cafe taking you up to 2am for just £13 – follow the link to buy your tickets quick.