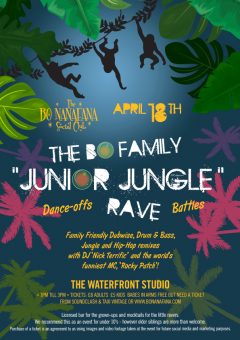 Join DJ Nick Terrific and MC Rocky Patch for the Junior Jungle Family Rave at The Waterfront Studio.
Junior Jungle was created by potty party people – DJ Nick Terrific and MC Rocky Patch, as the antidote to 'baby raves'. Functioning on the pillars of; No pop, No Diznee, Just proper tunes and real ravin' for kids and adults together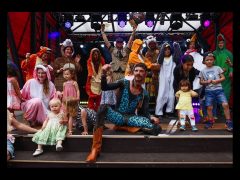 At a Junior Jungle Party you can expect only the finest cuts of Dubwise Drum and Bass, Jungle and hip hop remixes all vetted for age appropriate content, and expertly mixed live by Nick Terrific.
You can also expect to dance, a lot. MC Rocky Patch will lead the charge making sure all partygoers are jumpin' and skankin'. There will be dance offs and battles. Who will win? The Jungle cats? Or The Mashup Monkeys
With Bo decor, face painters and surprises, a licensed bar for the adults and mocktails for the tiny dancers.
Dress Fancy if you fancy – think 'Lions and Tigers and Bears, oh my!
Easter Thursday 18 April at The Waterfront
Just £8 for adults and £5 for 12 and unders. Babes in arms go free but you must buy a ticket so we can keep track of numbers
Get your tickets HERE
BIG UP THE LITTLEST MASSIVE